A happy home....
.... for all sorts of random stuff. Faith, crafts, recipes, web development, woodworking...anything that's an interest of mine.
https://familychristmasonline.com/othttps://familychristmasonline.com/other_holidays/easter/bede.htmher_holidays/easter/bede.htm Basically, only English speaking...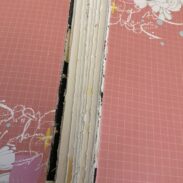 First, open up the book and find one side or the other where the end sheet (the paper lining the book cover and first page) may be separated a bit from the first...